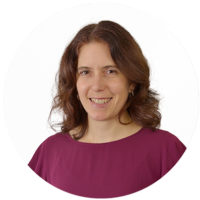 Amy Hofbauer
Teacher | Math
Amy is enthusiastic about discipleship, and looking forward to walks, talks, and prayer with her students. Amy became passionate about her faith while at Penn State. After prayers to God that He would reveal himself, her previous main campus experience void of Christian interaction was flooded with new friends full of knowledge and wisdom from the bible. She soon became a fervent student of church, campus ministries, and bible studies.
After 2 years of rigorous pre-veterinarian studies with great grades, through prayer Amy was drawn to middle school education. So, after earning her bachelor's degree, she earned 9 more credits toward an Education Master's degree at Lehigh University. She also worked as a chemist at Smith Kline & Beecham for a few years before becoming a fulltime mom. Once her children were older, she began a new masters of education program at Saint Joseph's University, which she completed in 2010.
It was also through Penn State campus ministries that Amy met her husband John of 23 years. Amy and John have two wonderful children, Evlynn and Jay. Amy and John have been volunteering as Junior High teachers for over 18 years with Action-Impact. They have traveled to Israel, China, Africa, and Spain. John and Amy also enjoy boating together, and have sailed to over 20 Caribbean Islands. One day they hope to spend many months sailing a catamaran around the Islands together.