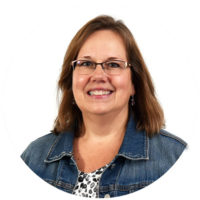 Bonnie Kline
Office Manager
Bonnie was born in Grand Rapids, MI, the sixth of seven children. Her mom led her to the Lord when she was five years old, and when she was six, the Lord led her family to New Jersey where she would later meet her husband, Marc.
Marc and Bonnie have three daughters, Kelly, Jaclyn, and Alyssa, all of whom attended High Point from Kindergarten to 12th grade. Bonnie and Marc are blessed with three sons-in-law and four wonderful grandchildren, Adelynne, Garrett, Jaxston, and Eliza.
Bonnie has worked in the High Point school office since 2001. One of her favorite things about the office is that she is able to work with all of the Academy students – from kindergarten to high school.
In her free time, Bonnie enjoys spending time with her family, vacationing at the beach, reading, and doing various crafts.