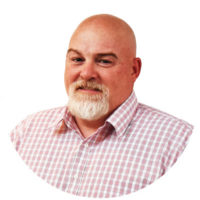 Brad Feldmeier
School Administrator
Brad received his education degree from Baptist Bible College of Clarks Summit and did his graduate work at Dallas Seminary and Alvernia University. He is an ordained minister, a licensed school principal through Pennsylvania Department of Education, and a licensed superintendent through Association of Christian Schools International. During his time in ministry he has been a football and wrestling coach, a youth pastor, and an assistant principal before coming to HPBA in 2012.
Brad and Sarah met at college and served as counselors at High Point Camp. They married in 2000, and have four children. Jedidiah, Luke, Seth, and Gracie keep them very busy with life and ministry. As a family they enjoy camping, amusement parks, and traveling. During the summer, they spend much of their time at Knoebel's camping and riding rides. The Feldmeiers are avid Irish Football fans, and enjoy playing most any sport. Brad grew up fishing with his father and loves to catch catfish and bluegill.
When Brad is not in his office or wrestling with his kids, he enjoys his hobbies of mudding in his Jeep, rebuilding his tractor, riding four-wheelers, grilling/smoking meat, and shooting guns. His favorite thing in life is spending time with his best friend, Sarah Jane.