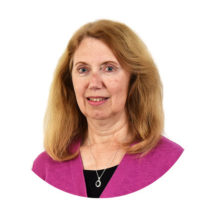 Cindy Bennicoff
Teacher | First Grade
Berks County, Pennsylvania has been Cindy's home all her life. There she was raised in a Christian home and came to accept Christ as her personal Savior as a young person. As a teenager, at the invitation of a friend, she attended High Point Baptist Chapel, which has been her church ever since.
Cindy received her B.S. in Elementary Education from Millersville State College and did post graduate work at M.S.C. and Lancaster Bible College. Cindy married her husband, Terry, right after college and soon took a fourth grade position here at the Academy where she continued for the next 6 years. Cindy was then blessed with 3 sons, Philip, Ethan, and Jared and stayed home with them. When the youngest went to first grade, Cindy did too as his first grade teacher. She has been teaching first grade for the last 24 years.
Whether by car, plane, boat, or train Cindy loves to travel with her husband. She especially enjoys trips to see her sons, "daughters" and 5 grandkids, Micah, Alissa, Hudson, Siena, and Caleb.