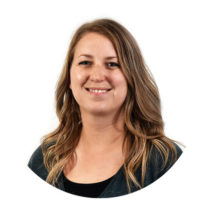 Colleen Eckert
Teacher | Kindergarten
Colleen grew up in Phoenixville, Pennsylvania, with two brothers and a twin sister. She began attending High Point Baptist Academy in 5th grade. After completing high school, she then received her Bachelor of Science in Early Childhood Education from Bob Jones University. She started her teaching experience substituting in Greenville County Schools in South Carolina, before becoming a permanent sub for two years.
Colleen and her husband relocated back to Pennsylvania in 2012. Since then, Colleen has been working at the Phoenixville YMCA in the camp, after school, and child
development programs.
Colleen has been married to her husband for 5 years. They enjoy spending time with friends and family, playing with their dog, Copper, and taking pictures. Colleen also enjoys playing volleyball in her spare time.