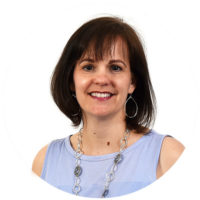 Janelle Beiler
Teacher | Sixth Grade & MS English
Janelle received her degree in English Education from Cedarville University. It was there that her connection with High Point began when she became friends with a sweet group of HPBA alumni and ended up marrying her favorite one! After marrying Jeff and moving to the Reading area in 1994, God unexpectedly led Janelle to teach English at High Point for two years. Isn't it ironic that 22 years later, she is teaching in the exact same room as before?
Janelle and Jeff have three children: Olivia, Brynn, and Braeden. The Beilers enjoy vacationing at the beach. Outdoor activities, such as biking and hiking, have always been their favorite things to do together. The sport they most enjoy is soccer. With the exception of a two-year stint in West Virginia, High Point has been the Beilers' school home since kindergarten, and they love it!
Janelle has spent the last 18 years serving as a wife, mother, and Premier designs jewelry consultant. She has taken pleasure in sharing her love of learning as she teaches the Bible in Kidside at church. She is excited that God has once again led her back to the classroom where she can help students be successful readers and writers and most importantly, grow in their love of the Lord.