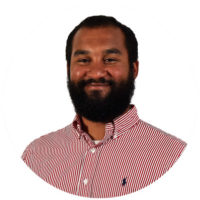 Jeremy Spiecker
Teacher | History
Jeremy, born in New Jersey, was adopted into his family when he was only three days old, along with his sister, who is also adopted. He grew up in the home of a pastor and is extremely thankful for his upbringing. He attended Bob Jones University in Greenville, SC, and graduated with a Composite Social Studies Education degree. Jeremy is following in the footsteps of his parents who both have served as teachers in Christian schools.
When Jeremy is not teaching, he loves various activities such as historical books, basketball, and soccer. His favorite sports team is his football team, the Denver Broncos. He believes that there are two ministries that have had a key role in his life. The first ministry includes various medical missions trips he went on to St. Vincent and Haiti. The second ministry that had a huge impact on Jeremy's life was working at High Point Camp.
His favorite historical figures are William Wallace, Abraham Lincoln, Winston Churchill, and Booker T. Washington.