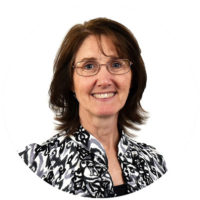 Kim Vanlew
Librarian | ACSI Coordinator
Kim and her husband Robert have been attending High Point for over 20 years. She has served in various ministries over the years including VBS, backyard Bible Club, teaching kindergarten junior church, and playing her instrument in the orchestra.
With two teenage daughters, life is busy in the VanLew house. Kelly and Amy have attended High Point Academy since Kindergarten. Kelly has since graduated and is now a junior at Liberty University while Amy has entered the 12th grade. In her spare time, Kim loves to relax with a good book. Well, you might find her doing that even when there is no spare time!
Kim received a B.S. degree from West Chester University in 1989. After working in business for eight years, she left her job to be a stay-at-home mom until 2009, when the Lord provided a position at High Point as the librarian and competition coordinator. The best part of her job is interacting with the students, getting to know them on a personal level, and watching their enthusiasm grow as they discover new books.