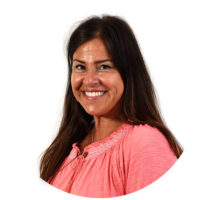 Melissa Kauffman
Interim Administrator | Learning Support Director
Melissa has been happily married to her husband, Bryon, for 20 years. She met him in 1st grade at High Point and it was love at first sight! They have four children: Lexie, Zachary, Mia, and Jack. On any given day, you likely will find Melissa at one of her kids' games or practices, working in her yard (she loves her flowers and garden), cooking up a feast, hiking, or with her family enjoying the outdoors. Melissa and Bryon are very active in church as they teach Sunday school and work with the youth group.
Melissa has a long history at High Point where she was a student from 1st through 12th grade. Melissa was a cheerleader and a softball player while a student at High Point. Melissa went on to attend Cedarville University where she dual majored in Elementary and Special Education. After she worked at Twin Valley Middle and High School in special education, she decided that she would like to be in Christian education. Melissa has received certification from the National Institute of Learning Development. Melissa has her Master's degree in Administration and Curriculum from Alvernia University and is in the process of working towards her Principleship.
Melissa joined the High Point staff in 2008 as the Learning Support and Curriculum Director and since then her role has grown to include teacher development and overall program enhancement. Her passion is seeing children grow in their ability to learn and achieve success in the classroom and beyond. One of Melissa's favorite parts of her job is discipling young women to be more like Christ.